Pastor Abusers is a survival manual for pastors who are constantly being attacked by critical church members. How can a pastor defend himself? What is going on behind the scenes in the spiritual realm? What are the pastor's options if he is fired or forced out of the church? The answers are in the 191-page book.
Who are the "Pastor Abusers"?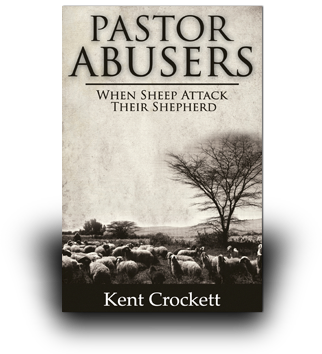 They are mean-spirited church members whose mission is to attack the pastor and drive him out of the church. In this book you will learn:
How Pastor Abusers operate.
Why they are determined to bring you down.
How to recognize when trouble is brewing.
What to do when you're under attack.
Your four options after you leave the church.
Quotes from Abused Pastors
"It was more than I could take when my wife had an emotional breakdown. As I held her in my arms, she cried uncontrollably, sobbing a few words at a time: 'All we've tried to do . . . is love these people . . . and all we get in return . . . is hate.'"
"I went out to my driveway and found a tire on my van had been slashed, as had been a tire on my other car. The same person who had done this had gotten under the hood and removed a relay for the headlights. . . .This group meant business and was determined to get their way."
"I started getting obscene phone calls in the middle of the night cursing me out. I received hate mail, cursing me and telling me to go to hell. I would get letters in my box telling me that I was a terrible pastor and that I needed to leave."
Click here for Sample Chapter.
Ordering Copies of This Book
(Price includes shipping and handling)
Check or Money Order: Send a check or money order made out to "Kent Crockett."
The prices below include shipping and handling to one address in the United States. Books will be shipped Media Mail. For orders to be shipped outside the United States, a minimum order of 2 books is required due to mailing costs.
| | | |
| --- | --- | --- |
| Single copy | | $15 |
| 2 copies | | $27 |
| 3 copies | | $38 |
| 4 copies | | $46 |
| 5 copies | | $55 |
| 6 or more | | $10 per book |
Mail to:
Kent Crockett
125 E. Poplar St.
Prattville, Alabama 36066
If you have questions about ordering, you can email me at kent @ kentcrockett.com